June 1 – September 30
From colourful florals in the day to subtle plays of light and shadow in the evening, summer offers breathtaking drama as day fades into night.
Evenings throughout July and August, you can take in a live performance from our outdoor stage on the Concert Lawn. Nestled amidst lush trees, the stage plays host to a variety of performers. Summer concerts are included with your admission ticket.
Summer Firework Saturdays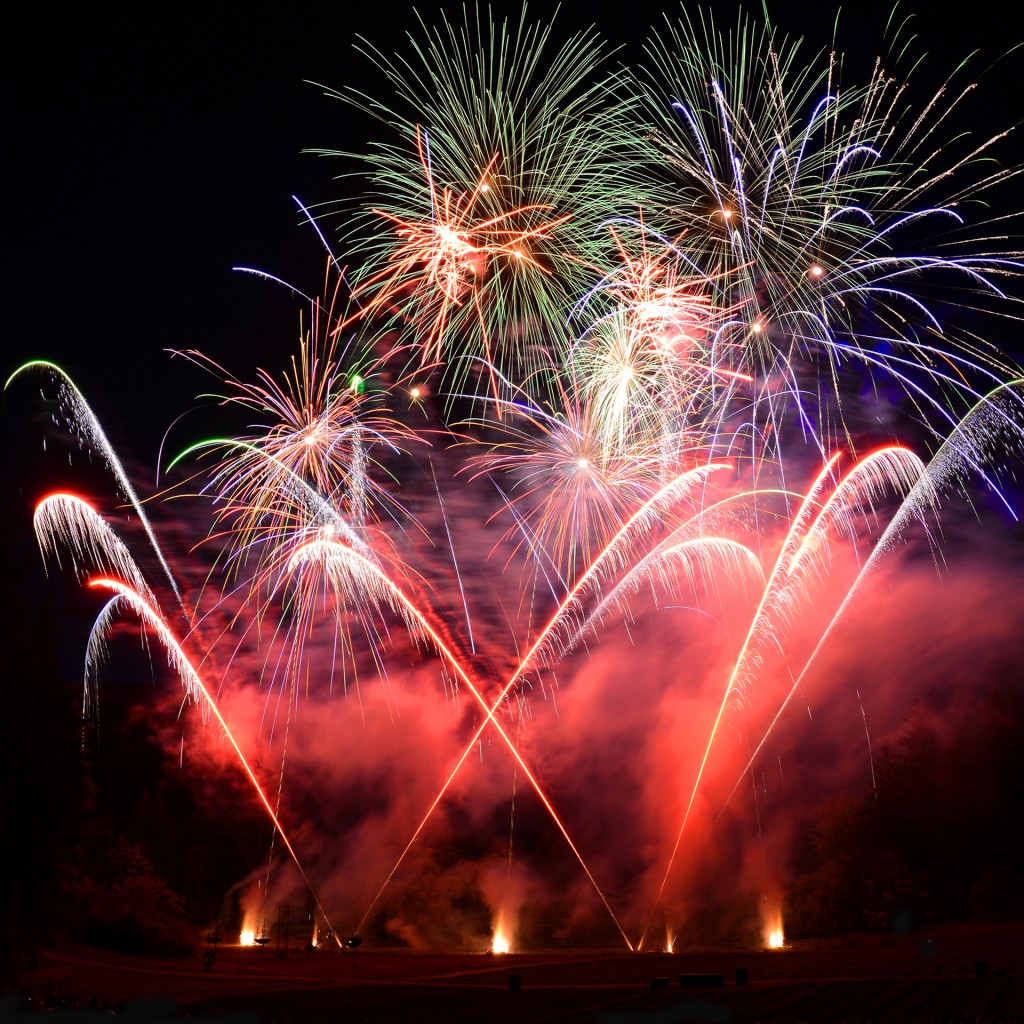 Saturday evenings in July and August, bring a blanket or lawn chair and enjoy our world-class firework show with your friends and family. Each show features original aerial and ground displays choreographed to music and designed by Jennie Butchart's great-grandson Christopher Ross. Fireworks are included with your admission to The Gardens.
| | |
| --- | --- |
| Saturday, July 1 | 10:15pm |
| Saturday, July 8 | 10:00pm |
| Saturday, July 15 | 10:00pm |
| Saturday, July 22 | 9:45pm |
| Saturday, July 29 | 9:45pm |
| Saturday, August 5 | 9:30pm |
| Saturday, August 12 | 9:15pm |
| Saturday, August 19 | 9:15pm |
| Saturday, August 26 | 9:00pm |
| Saturday, September 2 | 8:45pm |
Heighten your fireworks experience with seating in the private viewing area. Enjoy close parking, and reserved seating. Subject to availability.
RATES
Adult : $275
Youth: $255
Child: $238
Add-On After Admission: $236
Rates in Canadian dollars include tax.
Please call 250-652-4422 ext 320 to reserve.
Frequently Asked Questions
How long is the Firework display?
The show is approximately 30 minutes in length, set to music and is a combination of an aerial and ground structure displays.
When should we arrive? Am I able to leave and come back later?
Readmission is not permitted on Firework Saturdays, so we suggest that you arrive in the afternoon.   Entertainment will begin on our Concert Lawn stage 3 hours prior to Fireworks show time.   Should you wish to visit with us the next day, when the gardens may be quieter, you can purchase a single next day readmission for an additional $3.70 tax included.  You must present your original admission ticket which our staff will collect from you upon re-entry.
How long does it take to exit after the Fireworks show?
Exiting can take upwards of 30 minutes.
 May we bring our own lawn chairs and blankets for the fireworks?
You are welcome to bring your lawn chair (all varieties permitted), and set it up in the clearly designated 'lawn chair section'.   We ask that blankets not be unfolded until after 4pm as they can trap heat underneath them, and damage the lawns.  After 4pm, visitors can set out their blankets to reserve their spot and then continue on to enjoy the Gardens until closer to showtime.  We have wooden benches set out on our Concert Lawn that you are welcome to use while enjoying the stage entertainment prior to the fireworks.
 Do you allow outside food and drinks?
Outside food is allowed during your visit, however, alcoholic beverages are not permitted.
Do you allow picnics within the gardens?
There are two picnic tables located close to our Information Centre (if you ask a staff member there, they will point them out to you).  Additionally, we have several picnic tables in the green spaces of our parking lots.  Picnicking on the grassy areas/lawns within the Gardens is not permitted except for the Concert Lawn and Fireworks Viewing Lawn.
What happens if the forecast is for rain or inclement weather?
As the fireworks are an outdoor event, they are subjected to the elements.  Rain and wind may result in small changes to the performance, but the show will go on! We will have complimentary umbrellas and 'bum mats' available for visitors to use and we recommend wearing warm, waterproof clothing on these evenings.
May I bring my pet on Fireworks Saturdays?
If you are planning to watch our fireworks display on Saturday night, we strongly recommend that you do not bring your pets as they can be very frightened and distressed by fireworks.  The temperature is often not cool enough during the summer months to leave your pet in your vehicle and doing so can upset other visitors whom become concerned for your pet's safety.
Is my 12 Month Pass valid of Firework Saturdays?
Your 12 Month Pass is valid for visitation of the Garden until 4pm on Firework Saturdays.  Should you wish to enjoy the Gardens after this time, regular admission rates apply ($39.50 tax included).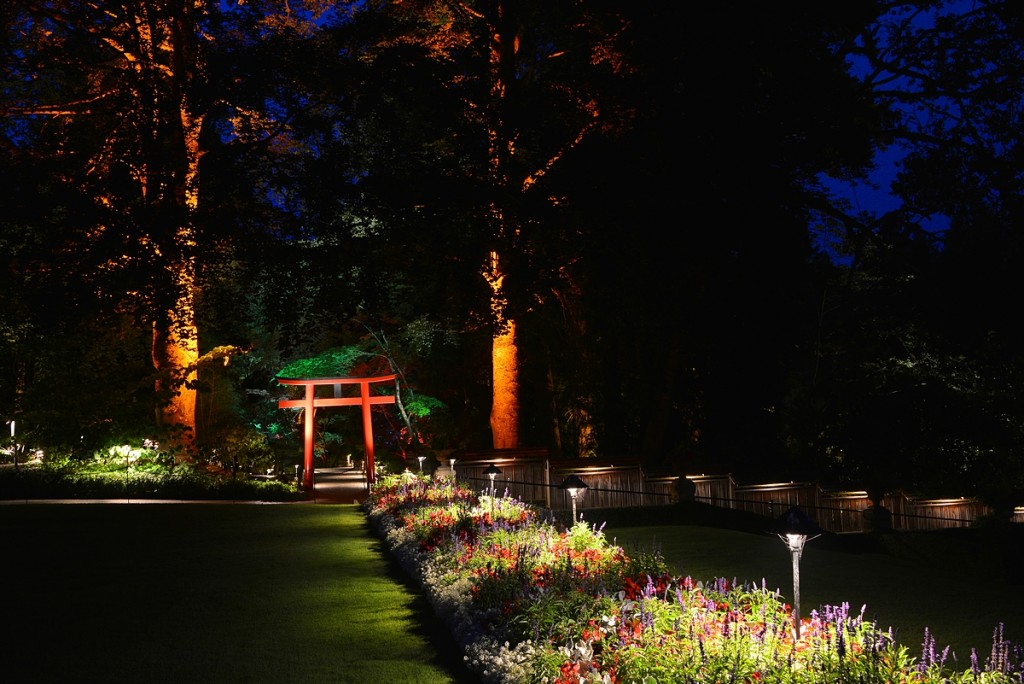 June 1 – September 15
Wednesday to Sunday evenings as dusk settles, thousands of subtle lights transform The Gardens into a magical wonderland, showcasing an artistic display of light and shadow.
In full bloom
Summer welcomes colourful Delphiniums, setting the stage for our Rose Garden. Once the Delphiniums have finished blooming, we find our rhythm, a pattern of deadheading Roses, replanting flower beds and dispersing insects to help control pests. Over 900 varieties of plants are grown for our summer gardens alone with an emphasis on floral beauty and colour.
Rose

Hydrangea

Lobelia

Begonia

Fuchsia

Daylily
Learn more about what is blooming this season