What's in Bloom Now? July Garden Updates
By Thea Hegland

July has arrived with many highlights throughout The Gardens. Our famous summer annual beds include the classics, and unusual on-trend plantings, including new combinations, three-way mixtures and creative patterns. Our garden designers always strive to keep things interesting by adding new plants to the mix and carefully weighing out the logistics, which don't always align with the vision…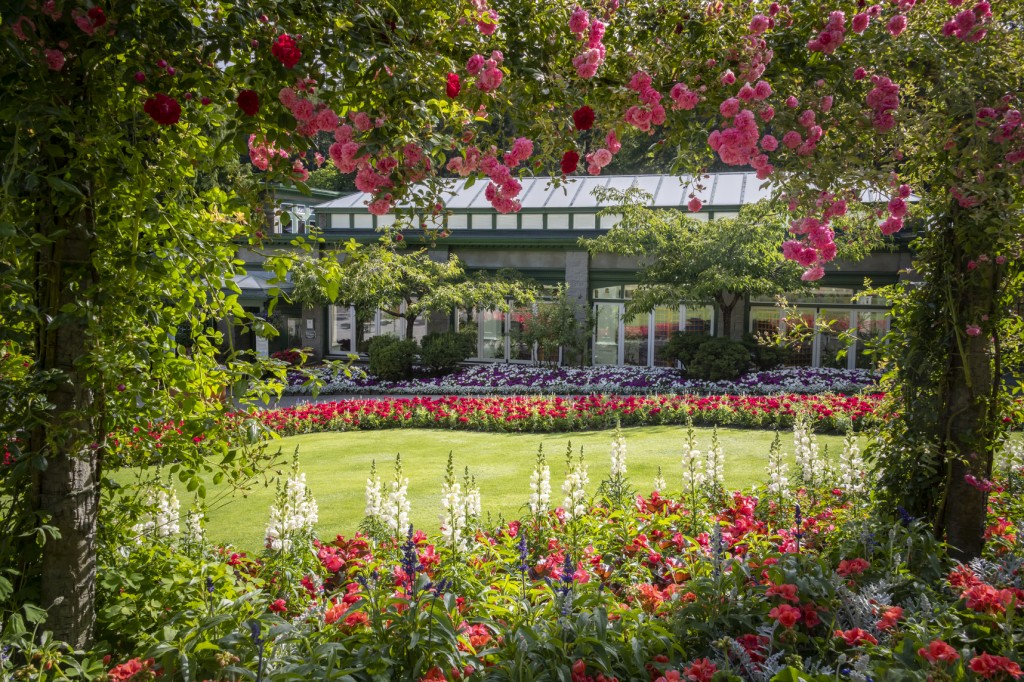 Classics such as Rambling Rose, Snapdragons and Begonias greet visitors upon entry
But, alas, there are the flowers you can always count on. For example, our Begonia collection is sublime, with over 10,000 plants and 140 different types, including a selection of Tuberous, Fibrous and Rex. While we grow many types, it is the Tuberous Begonias, with their breathtaking blossoms, that deliver the most captivating performance of all – the gorgeous flowers fill shady corners of The Gardens and cascade from hanging baskets in bright oranges, vibrant yellows, bold reds and shades of pink to classic white.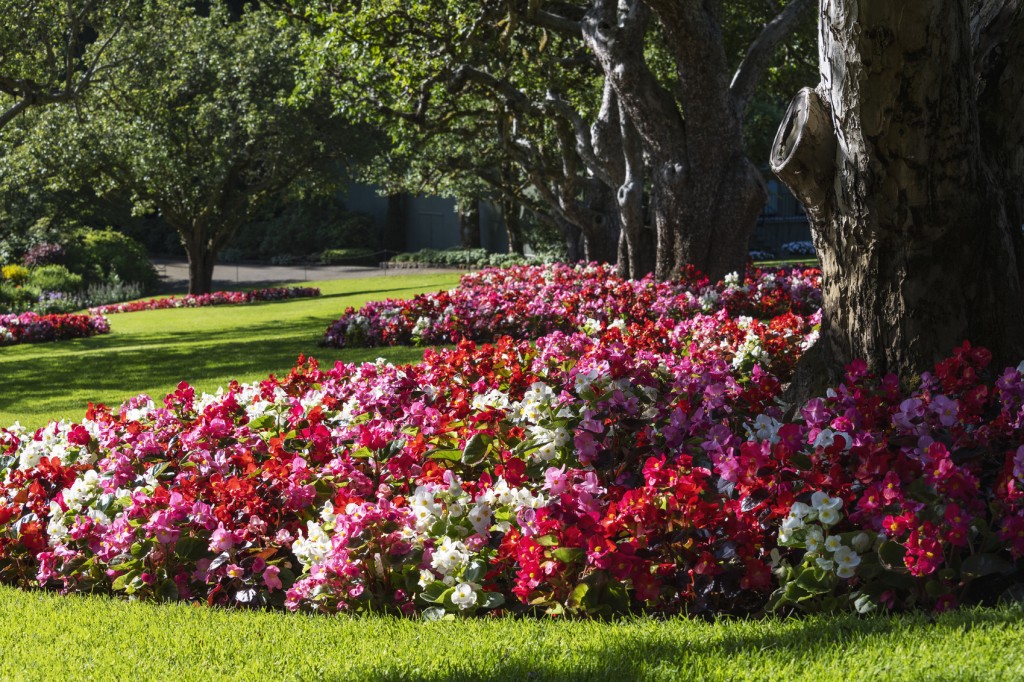 Begonias on the Concert Lawn
The sweet perfume and exquisite blossoms of our award-winning Rose collection lure you to the heart of The Gardens. Here, you will find yourself immersed amongst the 250 varieties and 2500 plants of assorted Hybrid Tea, Grandiflora, Floribunda, Rambler, Climber, Rugosa, Standard and old-fashioned Roses. Imagine Rose after Rose tumbling and spilling endlessly over arches, in rich shades of pink and red, pristine white, tropical tones of oranges and cheerful yellows – there is nothing not to love.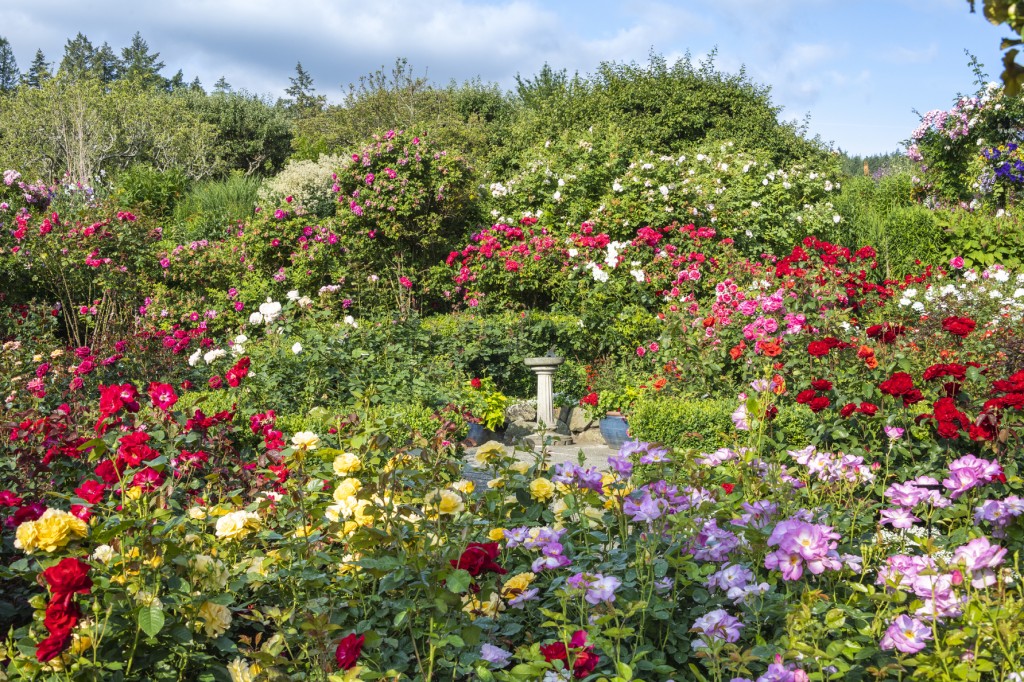 Rose Garden
Also noteworthy is the magnificent Catalpa speciosa (Indian bean tree), in full bloom with its white orchid-like blossoms on the Concert Lawn. Nearby, the intriguing Calycanthus 'Aphrodite' shrub, with curious flowers accompanied by a sweet apple-like fragrance. Also known as 'Sweetshrub', this beauty is complemented by another brazen beauty called Leptospermum scoparium 'Red Damask' (Tea tree) laden with long arching branches of hot pinkish-red flowers and dark green aromatic foliage. A magnet for bees and only marginally hardy in this climatic zone, it is thriving in this hot pocket. These specimens will have to keep us content until the famous Dahlia Border picks up momentum and once we start getting some real sun and heat, these amazing flowers will come quickly and dazzle us all.
Until then, we must enjoy now.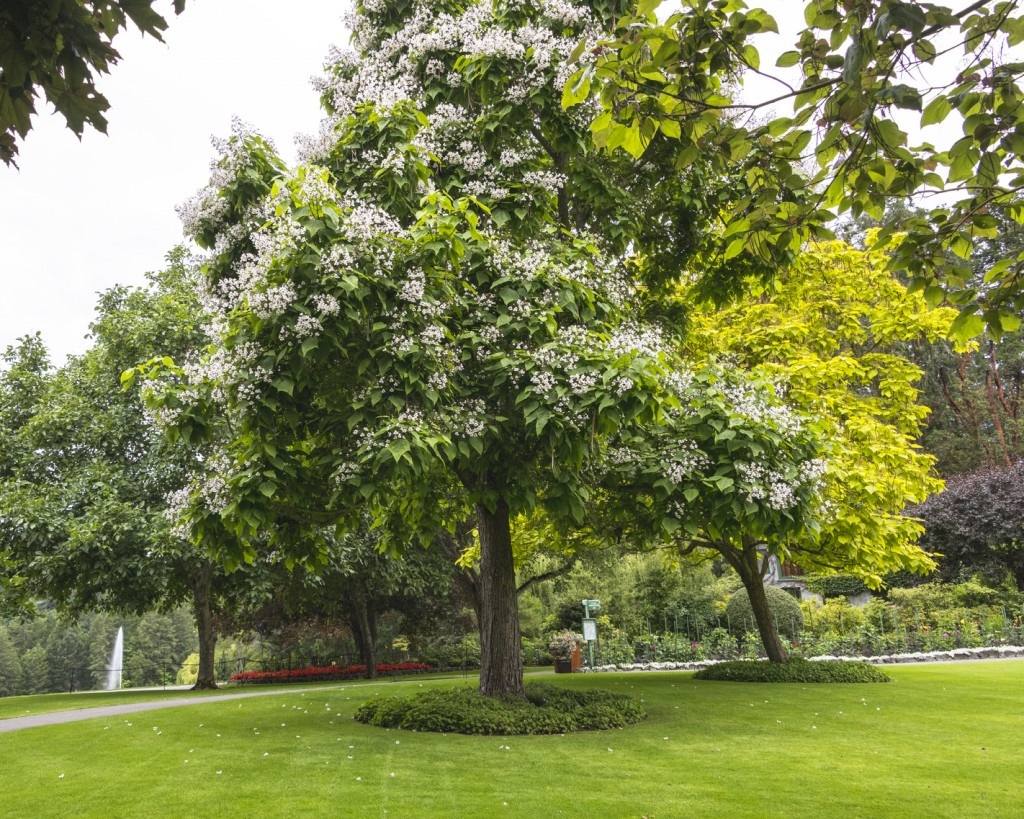 Catalpa speciosa (Indian bean tree)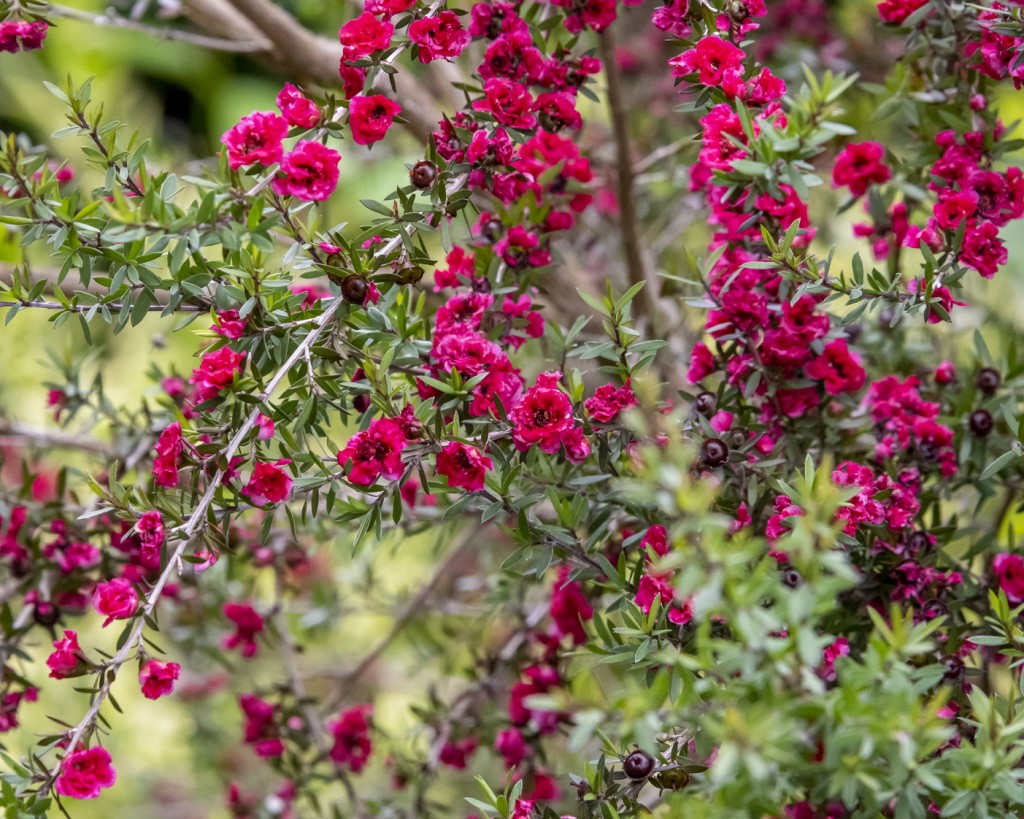 Leptospermum scoparium (Tea tree)
Plants that are currently blooming
Abutilon
Acanthus (Bear's breeches)
Aconitum (Monkshood)
Achillea (Yarrow)
Alocasia (Elephant's ear)
Antirrhinium (Snapdragon)
Astilbe
Anthriscus sylvestris 'Ravenswing'
Aruncus (Goat's beard)
Astrantia
Baptisia (False indigo)
Begonia (Tuberous and fibrous)
Bletilla
Brugmansia (Angels' trumpets)
Calceolaria (Scotsman's purse)
Callistemon (Bottlebrush)
Calycanthus 'Aphrodite' (Sweetshrub)
Cardiocrinium (Giant lily)
Catalpa speciosa (Indian bean tree)
Cephalaria gigantea (Yellow scabious)
Clematis
Colocasia (Taro)
Cornus kousa (Korean dogwood)
Crambe
Delphinium
Deutzia
Dianthus
Digitalis (Foxglove)
Disporum (Fairy bells)
Eremurus (Foxtail lily)
Filipendula
Fuchsia
Helenium (Sneezeweed)
Heliotropium (Cherry pie plant)
Hemerocallis (Daylily)
Hibiscus
Hydrangea
Hypericum (St. John's wort)
Inula
Impatiens
Iochroma cyanea
Lantana
Leptospermum (Tea tree)
Lobelia
Maglieta
Mandevilla
Manettia
Matthiola (Stock)
Monarda (Bee balm)
Pachystachys lutea (Lollipop plant)
Pelargonium (Geranium)
Pentas
Persicaria (Knotweed)
Petasites
Phlomis
Phlox
Poncirus trifoliata (Hardy orange)
Punica granatum (Pomegranate)
Rheum
Romneya coulteri (Tree poppy)
Rosa (Rose)
Salvia
Spartium junceum (Spanish broom)
Stachys marcantha
Styrax japonicus (Japanese snowbell)
Syringa reticulata (Japanese tree lilac)
Tagetes (Marigold)
Tecoma
Thalictrum (Meadow rue)
Torenia
Tradescantia (Spiderwort)
Viburnum
Weigela
Wisteria